There may be affiliate links throughout the content you're about to read. When you purchase from my links, I may earn a small commission (at no extra cost to you) which helps me provide even more awesome content for you :)
I've told you so much about the best MAC lip liners for fair skin, Indian skin, dark skin, and everyone in between that I thought it was actually time to show you the MAC lip liner swatches I've done in hopes it will help you choose your favorite shades.
Back when I had my first makeup blog, The Rouge Velvet (which I've shut down to focus on The Working Line), I used to have lots of makeup reviews up, and when I started moving around the globe, I had to get rid of so much makeup that it broke up heart.
I'm thankful for the fact that I've been able to get my hands on quite a few makeup pictures I'd done before shutting down the website, since it means I'm going to be able to rewrite my reviews, starting with the biggest MAC lip liner swatch fest ever!
I've always loved MAC Cosmetics; it's one of my favorite makeup brands along with Juvia's Place, Nabla Cosmetics, Charlotte Tilbury, NYX, and the drugstore underdog Barry M.
When I became a certified makeup artist, I set out on collecting as many MAC matte lipsticks, lip liners, and gel eyeliners as I could – just because I could, and needed them (kinda) in my makeup artist kit.
So let's talk about the MAC lip liner shades with swatches, from Spice to Soar, and from Cherry to Chestnut today!
And if you'd like to learn more about MAC products and other stunning makeup brands, check out the guides below:
Review: 29 MAC Lip Liner Shades Swatches – Spice to Cherry
I worked at two different MAC makeup stores in London and Paris, and the products were roughly the same. Some shades differ, and even when you cross the Atlantic from the USA to the UK and Europe, some of the products don't have all the shades you'd find in other areas of the world.
In any case, the MAC lip liners are all available wherever you shop them from, whether it's Selfridges or a proper, self-standing MAC store.
To help you out, I've split this MAC lip liner shades review into three parts; the nude lip liners, the pink and purple lip liners, and the red and burgundy lip liners.
Hopefully, these side-by-sides will show you the difference in color enough that you know which ones you can't live without!
Nude MAC Lip Liner Swatches
Let's start with the nude MAC lip liners – whether you have dark skin or really pale skin, these are the lip liner shades you will use the most on a daily basis if you like lipstick shades like the Velvet Teddy lipstick, the Whirl lipstick, Honeylove, Taupe or Kinda Sexy.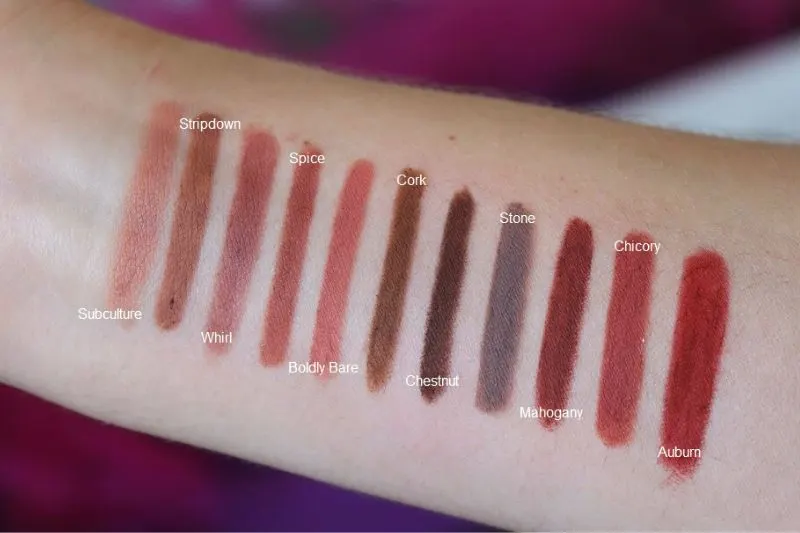 Shop Subculture ♦ Stripdown ♦ Whirl ♦ Spice ♦ Boldly Bare ♦ Cork ♦ Chestnut ♦ Stone ♦ Mahogany ♦ Chicory ♦ Auburn
If you have pale skin and just want to wear a MAC lip liner with some lipgloss on top, the most popular shades are Subculture, the Spice lip liner, Boldly Bare, and the Whirl lip liner.
Popular MAC Lip Liners for Pale Skin & Fair Skin
Spice and Whirl are some of my ultimate favorites, just because they're so easy to wear on a daily basis – and shades like Boldly Bare and Subculture look way too nude on my skin tone (I have fair olive skin, NW15 in MAC and 1.2 P in The Ordinary, if that can help).
Popular MAC Lip Liners for Medium Skin & Dark Skin
Some of the best MAC lip liner shades for medium and dark skin are Chestnut, Cork, and Whirl as well to a certain extent (the Whirl lip liner can look a bit too light/pink on a really dark skin tone).
However, Cork and Chestnut are amazing if you have medium to dark skin, since they're really those true brown shades – with Cork being more yellow-toned, and Chestnut more cool-toned and darker than Cork.
Popular MAC Lip Liners for Asian Skin & Warm Undertones
If you have Asian skin or warm undertones, the Chicory, Auburn, and Mahogany lip liner shades are some of the most beautiful I've ever come across.
Funnily enough, even with my olive skin tone, I can make Auburn and Mahogany work really well – so it can also depend on the color of your eyes and hair.
Plus, they look stunning with some of the most famous MAC lipsticks for Asian skin, like Chili and Marrakesh – so Auburn and Mahogany are really beautiful with that kind of reddish brown lipstick.
Shop Subculture ♦ Stripdown ♦ Whirl ♦ Spice ♦ Boldly Bare ♦ Cork ♦ Chestnut ♦ Stone ♦ Mahogany ♦ Chicory ♦ Auburn
Purple & Pink MAC Lip Liner Swatches
Next up, you have the almost complete range of purple and pink MAC lip liners from Edge to Edge, stunning on blondes and redheads, to the Soar lip liner, one of the most popular shades, which looks amazing with mauve MAC lipsticks.
Shop Edge to Edge ♦ Soar ♦ Plum ♦ Vino ♦ Cyber World ♦ Nightmoth ♦ Beet
Please note the following MAC lip liner shades have been discontinued: Currant, Nightingale, and Heroine.
I have never owned the Dervish lip liner, just because I found I didn't really have a use for it, neither on myself nor on models – since I had some Barry M MAC lip liner dupes and NYX lip liners I could definitely make work on pale skin and fair skin tones.
Some of the most popular MAC pink lip liners are definitely Edge to Edge and Soar, with the Soar lip liner being an all-time favorite in the entire world.
It looks amazing whether you want to wear it on its own, with the Twig lipstick, the Mehr lipstick, or with just some clear lipgloss on top.
My very favorite MAC lip liner shades are Beet and Nightingale – but Nightingale, which was stunning with some beautiful winter MAC lipsticks like Rebel, has been discontinued.
Beet is perfect if you're used to wearing some kind of raspberry lipstick, and it looks amazing paired with green eyeshadow, or some light gold eyeshadow too.
Then, if you're looking for some kind of purplish nude MAC lip liner for dark skin, two of the ones I sold the most are Nightmoth and Cyber World. Nightmoth is really that dark plum color, while Cyber World is super cool-toned, an almost blue purple lip liner shade.
Shop Edge to Edge ♦ Soar ♦ Plum ♦ Vino ♦ Cyber World ♦ Nightmoth ♦ Beet
Red MAC Lip Liner Swatches
Last batch with the red MAC lip liners! In this batch too, a few colors have been discontinued – I can understand why, since there were the lip liner shades that no customer really cared about, like Lasting Sensation or, sadly, Follow Your Heart.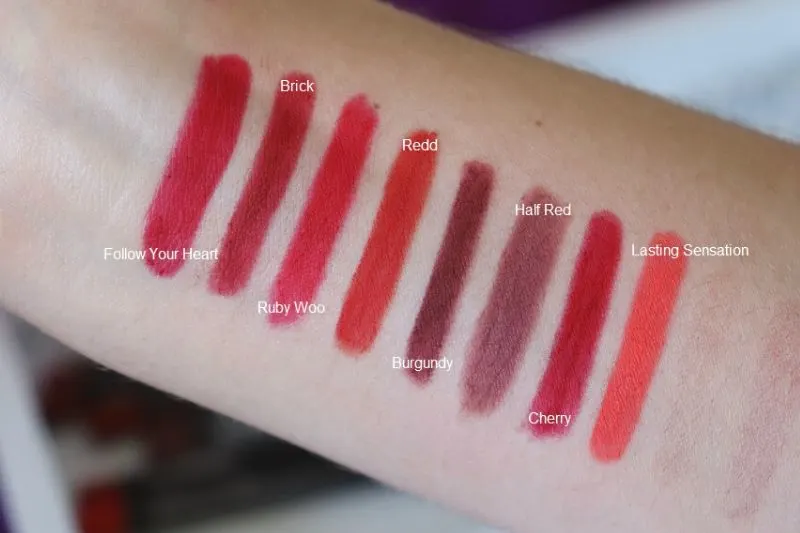 Shop Brick ♦ Ruby Woo ♦ Redd ♦ Burgundy ♦ Half Red ♦ Cherry
The MAC red lip liners I sold the most were definitely Cherry and Ruby Woo; they go with most of the MAC red lipsticks, and they look beautiful on their own as well.
If you're trying to create a little MAC red lipstick and lip liner combo, you can also use the Burgundy and Half Red lip liners with some lighter red lipsticks.
For instance, use Half Red with Russian Red, or the Burgundy lip liner with Viva Glam 1, and you've got a slight ombre lip with a bit more dimension brought to the lips.
The Half Red lip liner is probably one of the most underrated; it looks beautiful in unexpected lip combos with shades like Twig or Blankety – really that beautiful muted burgundy red lip liner.
Shop Brick ♦ Ruby Woo ♦ Redd ♦ Burgundy ♦ Half Red ♦ Cherry
Review: 29 MAC Lip Liner Shades Swatches – Spice to Cherry
During the years between the first time I posted these pictures on the Internet to today, quite a few MAC lip liner shades have been discontinued, but the range has roughly remained the same.
The MAC lip liners retail for $21, so they're much more expensive than they used to be, but I still think they're some of the most useful and long-lasting lip liners on the market now.
They are a bit drying, so I'd definitely recommend wearing a lip balm and/or a lip primer underneath, but they do hold their part of the deal.
Also, as much as you'd want to find dupes for MAC lip liners, there are some shades that you can never really find an exact dupe of, like the Beet lip liner, which will forever remain one of my must-have MAC products.
Until next time!
Other Makeup Posts