There may be affiliate links throughout the content you're about to read. When you purchase from my links, I may earn a small commission (at no extra cost to you) which helps me provide even more awesome content for you :)
Let's talk a little bit about the best MAC coral lipstick shades today, since we're right in the middle of spring, and summer it clearly lurking around the corner!
Since I talked about the best MAC bridal lipstick shades some time ago, I just couldn't wait to highlight some of my ultimate favorite MAC coral lipsticks and other pink and peach lipstick shades.
MAC Cosmetics certainly knows how to make some stunning light peach, bright coral, and pink peach lipsticks – that's a fact.
I've written here plenty of guides to the best MAC lipsticks by skin tone – from red lipsticks to beautiful purple MAC lipsticks.
So many that I'm actually starting to lose track of how many info you can find about this brand here.
Plus, we're all going to want to find the best MAC lipsticks for summer at some point, and you'll have this guide in handy when the time comes.
What makes me qualified to embark on such a huge adventure, that of sharing everything I know about makeup?
Well, for over a year, and not that long ago, I was a MAC makeup artist.
I worked in both the MAC Cosmetics store in Paris on the Champs-Elysees and the MAC Pro store in Covent Garden (one of the best makeup stores in London, if you ask me).
As I always say, you don't get to work for MAC Cosmetics for well over a year without trying out each and every little makeup product that gets released.
And even when you leave MAC, you remain a MAC makeup artist forever – at least in my case.
I'm an eyeshadow palette addict, and a lipstick addict – but beyond that, what gets me going, even more than makeup, is the quest for color.
I love color in all its shapes and forms, in all its hues and tones.
So today's all about the best MAC coral lipsticks, coral pink, and peach lipstick shades.
From cool to warm, whether you're blonde with fair skin with warm undertones or are looking for the best MAC peach lipstick for Indian skin, you'll hopefully find everything you need here!
12 Best MAC Coral Lipstick Shades for Spring & Summer
Before we get on with the full guide to the best MAC coral lipstick shades, a few tips and highlights.
Honestly, it took me a while to actually fall in love with peach and coral lipsticks – even if MAC Cosmetics does have a few particularly stunning pink and coral shades on offer.
How do you choose a MAC coral lipstick for fair skin, Indian skin, Asian skin, or dark skin?
The Best MAC Coral Lipstick for Fair Skin
The shade really depends on your skin's undertone – even if coral lipsticks are by nature warm lipstick colors, some will definitely look better than others.
For instance, I'd recommend something a bit more red like On Hold (Cremesheen lipstick) if you have fair skin with a cool undertone (think redhead).
If your skin is a bit warmer, you could still wear On Hold for sure, but you also have a few more options in terms of more popping, bright MAC coral lipsticks.
The Best MAC Coral Lipstick for Olive Skin
I would go for a pink peach MAC lipstick rather than a full-on bright orange coral lipstick.
I have an olive skin tone (NW15 to NW20) and that's the reason why I took so long to actually appreciate peach MAC lipstick shades – because it doesn't flatter olive skin as well as colors like Viva Glam 1 or D for Danger do.
But you can still go for something a bit pinker or redder, like On Hold or Forever Curious, and look banging with it.
The Best MAC Coral Lipstick for Asian Skin
If you're looking for the best MAC lipsticks for Asian skin, I've written a full guide that will hopefully give you some heads-up.
If you have a light Asian skin tone, like most Chinese, Japanese or Korean people, I'd say go for something pink peach rather than full-on orange lips.
I would usually avoid something like Runway Hit (Retro Matte), and would rather go for See Sheer, warmer, deeper, and redder.
The Best MAC Coral Lipstick for Indian Skin
We're starting to get into the bright side of MAC coral lipstick shades with Indian skin tones.
While Indian skin can literally be super light or super dark, I'd probably go for something redder like Pretty Boy (Cremesheen) or Forever Curious (Matte).
Just because pink MAC lipsticks and red shades look often much, much better on Indian skin than orange lipsticks in my experience.
The Best MAC Coral Lipstick for Dark Skin
The shade depends on the result you want to achieve, honestly – you could literally wear Vegas Volt (Amplified) or Crosswires (Cremesheen) and make it work.
If you're looking for something more like a nude coral MAC lipstick shade for dark skin, Forever Curious and any peach lipstick from the Lustreglass range would look awesome on brown and black skin tones.
Choosing the Texture of Your MAC Coral Lipstick
The texture of the peach, pink peach, or coral lipstick you will choose depends on your skin tone.
If you have a dark skin tone and go on to wear a really pigmented peach MAC lipstick (Satin, Amplified, or Matte mostly), expect to have a strong color that will not look subtle. If that's the result you want, why not – makeup is made to be fun and experiment.
Matte or Creamy?
If you want something like an everyday MAC lipstick shade, then I'd strongly recommend a coral lipstick from the Lustreglass, Cremesheen, or Frost ranges.
That way, you can still layer if needed, and whether you want to treat yourself or gift the perfect MAC lipstick to a friend who doesn't have the same skin tone as you at all, you're pretty sure to be spot-on.
I do hear you if you tell me that you're looking for the most long-lasting MAC lipsticks. The Matte lipsticks are indeed longer-lasting compared to shiny Lustreglass lipsticks.
Yet, the great thing about the Lustreglass lipsticks is that once layered on top of a MAC lip pencil, their wear time is incredibly longer.
Plus, the shades mix to create a stunning third color and provide a glossy finish without being sticky – kind of the best of both worlds.
Now let's get on with all the musthave MAC coral lipsticks for fair skin, olive, Asian, Indian and dark skin!
Grapefruit pink
See Sheer was one of the first MAC coral lipsticks I ever tried when it was repackaged for the MAC in Monochrome collection.
This is in my opinion one of the best options you have whether you're looking for the best MAC peach lipstick for dark skin because it's part of the Lustreglass family.
That means the finish is shiny, and you can either build up to create your own pigmentation of this stunning MAC coral pink lipstick or just layer it on top of a lip liner and enjoy the mix both colors make together.
In time, I've come to find that See Sheer is one of the best everyday MAC lipsticks.
And this one is perfect with green eyeshadow, since both colors really just contrast beautifully.
It's not one of the best sellers in terms of finish (most people are still just raving about Mehr, Ruby Woo, and Taupe).
Yet, it's probably one of the best pink peach MAC lipsticks ever released, and very easy to wear whether you're Asian, Caucasian or have a dark skin tone.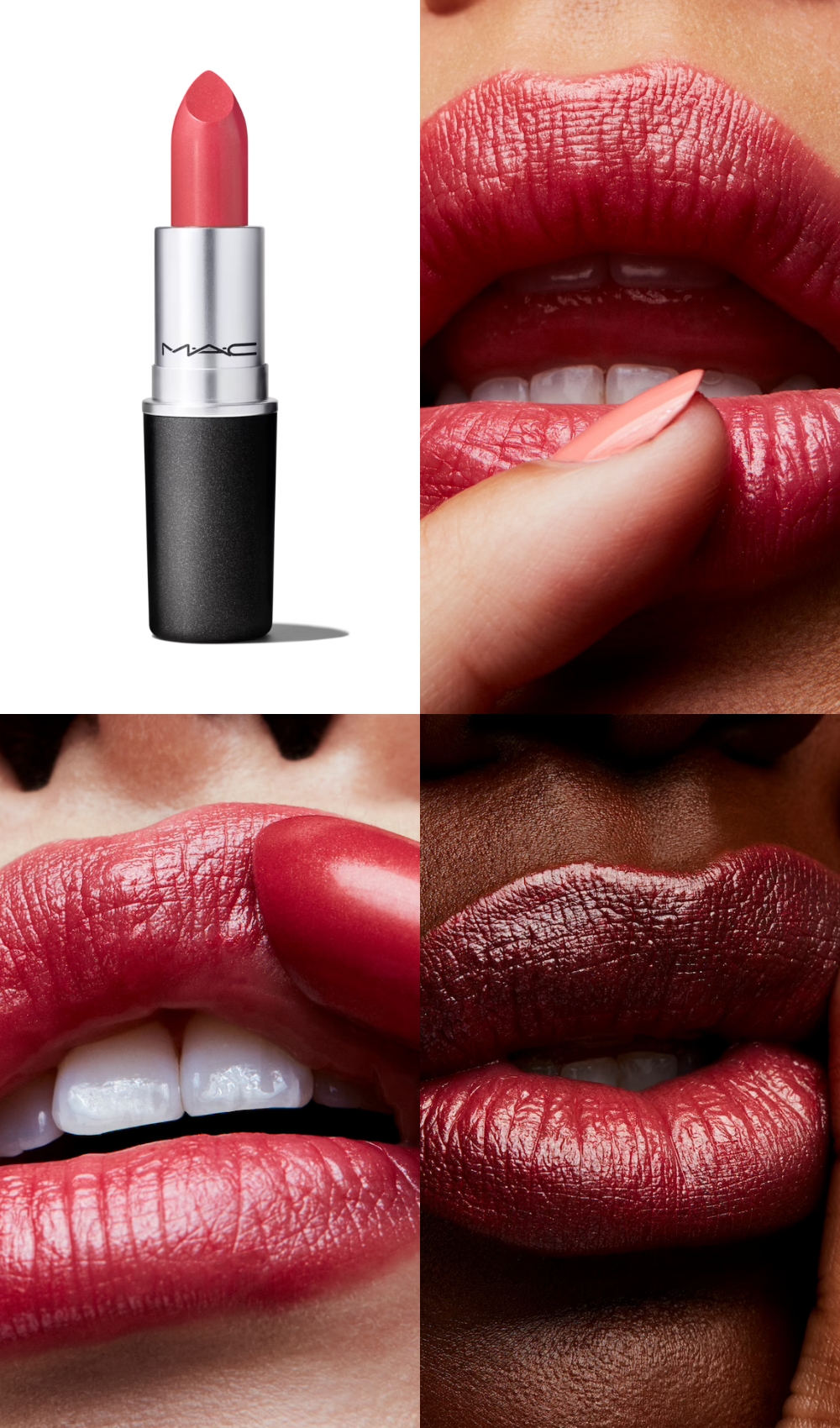 Mid-tone yellow raspberry
If you ever ask me about the best MAC cream lipstick colors, I can only very warmly recommend On Hold, part of the Cremesheen range.
That's clearly one of the most beautiful MAC coral lipsticks out there, and even if the brand tried to create or recreate something of that level, I'm not sure it could be achieved.
The On Hold lipstick might be described as some kind of raspberry, I don't agree with this description at all.
To me, it looks like a very red coral shade, and if you're looking for the best MAC Cremesheen lipsticks for Indian skin, fair skin, Asian or dark skin, it's hard to do better than On Hold.
My favorite way to apply it is with one single layer; since On Hold is a Cremesheen, the texture is shiny, very balm-like, and easy to build up.
Weirdly, I've never heard anyone talk that much about On Hold when mentioning the best MAC lipstick shades, but honestly, you're missing out if you don't have it in your collection.
Midtone coral
Frienda is one of the newest MAC coral lipsticks, released at the beginning of 2022 if I remember well.
If you're looking for the perfect MAC pink peach lipstick shade for fair skin, redheads, or even medium skin tones, you're going to love this one.
The Frienda lipstick is part of the Lustreglass range, which means it's considerably sheerer and more hydrating than the other MAC Matte lipsticks, Satin, and even the Amplified range.
It's clear, while at some point, I wasn't into the Lustreglass lipsticks at all, in time, I've come to find their use when you're looking for the perfect MAC lipstick for every day.
We've got a clearly stunning peachy pink shade that will look amazing on fair skin up to medium and lots of Asian and Indian skin tones as well.
If you love shades like See Sheer and On Hold but would just like to go for something a bit more peach rather than red lipstick, Frienda is the one for you.
Clean pinky orange
Crosswires is one of my favorite MAC lipsticks of all time, coral, red, pink, and purple all put together.
It's basically at the perfect crossroads between On Hold and See Sheer, both in terms of texture and color.
For once, I completely agree with MAC Cosmetics' description of lipstick; Crosswires is definitely a perfectly clean pinky orange.
We've got something really hydrating; Crosswires is one of the most amazing MAC coral lipstick shades from the Cremesheen collection.
It's pretty easy to wear; if you're looking for MAC summer lipsticks or just something to get out of this nude lipstick rut, you're going to love it.
Perfect for blonde hair and fair skin after a warm peach MAC lipstick, and for Asian skin, all the way up to Indian skin and very dark skin tones.
Intense pink coral
Pretty Boy is one of the best MAC coral lipsticks for Asian skin tones; whether you have a light warm skin tone or are darker, it doesn't matter – that's one of the best MAC lipsticks to wear on a daily basis.
Pretty Boy is part of the Cremesheen range, like Crosswires and On Hold.
If you ever want to go a tad more red on the lipstick, I can also recommend you try out Dozen Carnations – clearly one of the most beautiful MAC red lipsticks for Asian skin tones up to dark skin.
Pretty Boy is that really clean pink coral lipstick shade that you probably think of when you wonder whether you'd look good with coral lipstick on – very easy to wear if you're after a MAC lipstick for warm undertones.
Pinky Red
It was hard for the longest time to try and find a really good coral shade in a MAC lipstick with a matte finish.
We had Tropic Tonic and Runway Hit in the Retro Matte finish, but something like a wearable MAC pink peach lipstick?
Nope. Not absolutely, completely matte.
That changed a few months ago when MAC Cosmetics introduced the Forever Curious lipstick, a beautiful newcomer in the matte lipstick range.
And the color, guys, is just utterly stunning.
Something just really tells me that the brand listened when people said they would like to find a nice MAC peach lipstick for Indian and dark skin tones, who tend to go for some famous shades like the Mehr lipstick.
Until Forever Curious, you kind of had to make do with blotting out a bright orange lipstick like Lady Danger or So Chaud – and even then, you wouldn't really have the perfect coral shade for dark lips.
What is so amazing about the MAC Forever Curious lipstick?
Well, since the MAC matte lipsticks can be used on the cheeks as well as blushes, you've got here a great option of MAC blush for Asian skin.
Okay, it does come in a creamy format, but it's easier to apply, and lasts all day with translucent powder.
Full Power Coral
Tropic Tonic is definitely one of the most fun MAC coral lipstick shades, and it's perfect for a wide range of skin tones.
Again, not one of the types of peach MAC lipsticks I'd apply on an olive skin tone.
I much prefer raspberry and plum lipsticks for olive skin; it's a bit too orange for that unless you wear a good amount of bronzer.
But if you have blonde hair and fair skin, or if you're looking for a good MAC peach lipstick for medium skin to dark skin, you can go ahead with Tropic Tonic.
Also, a really pretty shade if you're a redhead, by the way, and want to go full color with some really pretty light blue eyeshadow.
However, let's not forget that Tropic Tonic is a light peach lipstick from MAC, which means that you're going to need to hydrate and nourish those lips before applying it.
In my experience, coral lipsticks tend to show the little bits of dead skin on the lips without mercy, so double up on the lip balm.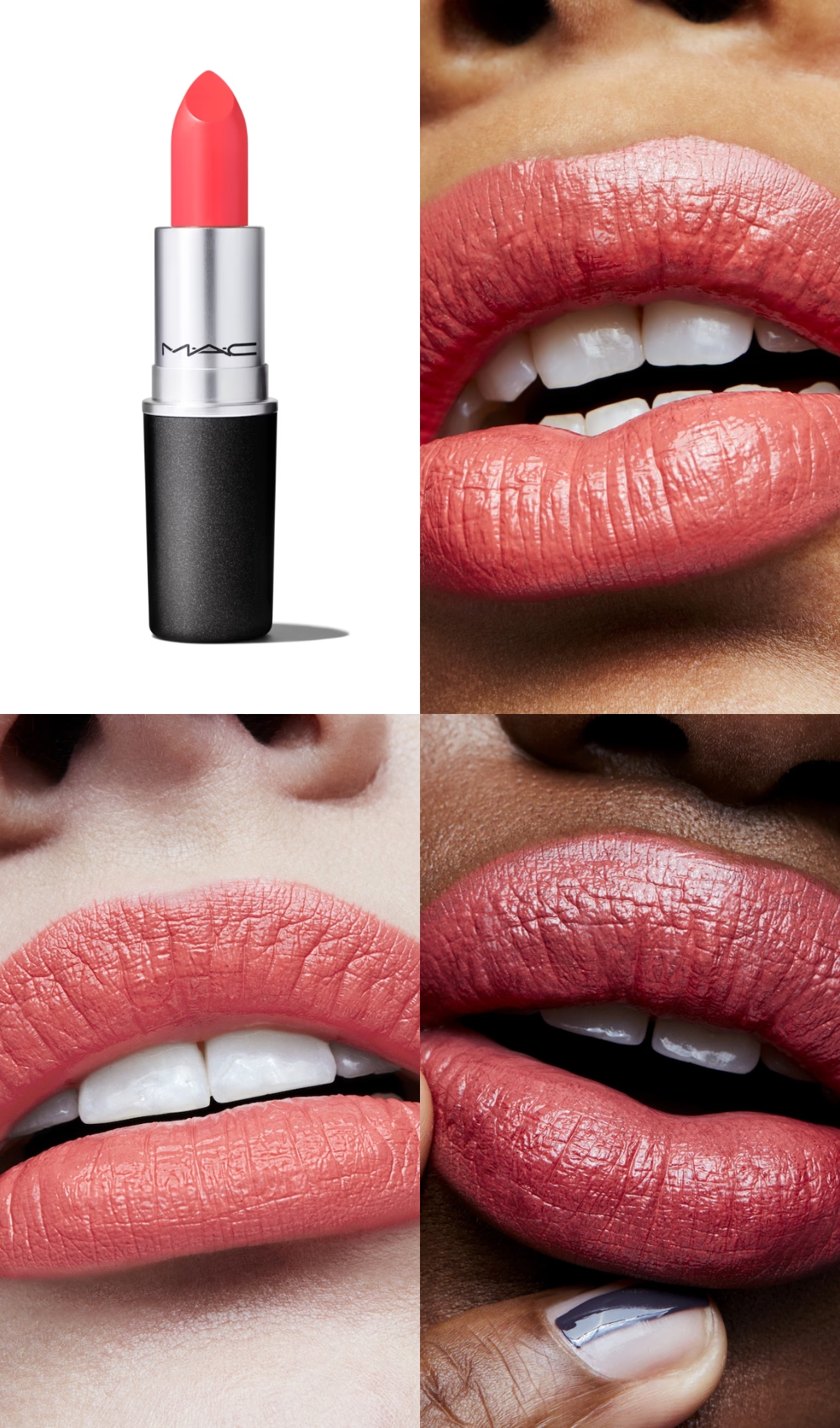 Full power coral
Vegas Volt seems to me like the literal translation of the Tropic Tonic matte lipstick into a Satin finish.
I've written a full guide to the best MAC Satin lipsticks, and while I didn't include Vegas Volt in there, it probably would have its spot there.
It's stunning, and much more enjoyable to wear in my opinion than Tropic Tonic due to the shine – when I think of possible MAC summer lipsticks, I want shine much more than matte.
Again, not a shade I would recommend if you're after coral MAC lipsticks for olive skin as there's a lot of orange in there.
However, if you have a warm skin tone, fair or dark, Vegas Volt is a truly beautiful peach lipstick perfect to brighten up the day.
Light nude matte
Runway Hit is probably one of the most popular MAC lipstick shades for summer; if you're a redhead, have blonde hair, and have pretty pale skin, you're going to love it.
That's personally one of my least favorite MAC lipstick shades (that's not to say clearly that I hate Runway Hit).
It's part of the Retro Matte range, which means if you find Tropic Tonic drying, you're going to find Runway Hit even more drying.
Keep those lips hydrated big time if you want to enjoy its pretty light peach color.
Also, as I always tell you, especially with the MAC Retro Matte lipsticks, do wear a lip primer underneath.
The Prep + Prime for lips is excellent for the Retro Matte lipsticks, just because once it's half-dry, those shades just glide on, where they would drag painfully without it.
Ah, and it also avoids having the lipstick sink into the fine lines and crack.
All in all, one of the best MAC coral lipsticks for fair skin, whether you're Asian or Caucasian, and better suited for warm undertones.
Frosty light coral
Costa Chic is part of the Frost lipstick range, and it's clearly one of the MAC coral lipstick shades I've never, ever, ever been attracted to.
It's described as a frosty light coral, and indeed it is – if you are after the best MAC light peach lipstick (think blonde hair or medium skin tone), you're going to love it.
Clearly, Costa Chic is a hard pass for me – such a coral lipstick shade on olive skin tone is just a no-no for me.
Unless you do what I did so I could enjoy at least a little bit of the bright orange MAC lipsticks like Lady Danger and So Chaud – you wear your usual foundation but go hard on the bronzer (not too hard!).
But if you're a little bit tired of the same old same matte lipsticks, Costa Chic is definitely one of the most interesting choices in this guide and looks absolutely stunning with some champagne or gold eyeshadow.
If you have a warm skin tone – doesn't matter if it's fair, Asian, or Indian skin, that's one of the best MAC coral lipsticks you can pick up.
Bright pinky-orange w. pearl
The MAC CB96 lipstick is one of my favorites; right up there with On Hold and Crosswires.
It's one of the shades I'd often wear when working at MAC in Paris, just because it is so different from any other kind of MAC coral lipstick shade you'd usually pick up.
Right?
We've got here a beautiful pinky peach duochrome lipstick shade, really comfortable, which glides super easily on the lips.
Beware though, as it's a creamy lipstick – if you want it to last longer, wear a beautiful light brown lip liner underneath.
I used to also wear this one with the MAC Cherry lip liner underneath, just because it would bring out the red base of the CB96 lipstick even more.
On the eyes, a simple, beautiful black MAC eyeliner is just enough; let the lips do the talking!
Salmon pink
I haven't talked about many MAC Powder Kiss lipsticks throughout my guides, except in the one dedicated to those beautiful, super comfortable matte lipsticks.
However, if you tend to have dry lips and need some more hydrating MAC lipsticks for spring and summer, check out the Mandarin O lipstick.
Not only is the color super easy to wear as soon as the sun goes out, but the texture makes this beautiful MAC coral lipstick a dream to have on.
With its tinge of reddish pink in the color, just about any skin tone can wear the Mandarin O lipstick, and you can also apply is very lightly for a beautiful coral blush on fair skin, Asian skin… quite anyone, really.
Wear with some beautiful warm red eyeshadow, or some really soft neutral brown eyeshadow for a more easy-to-wear look…
Or go full on with a bright blue eyeliner!
12 Best MAC Coral Lipstick Shades for Spring & Summer
There you have them, all the best MAC coral lipsticks, from light to warm peach lipstick shades, and a little detour with stunning pink peach MAC lipstick colors as well!
I have written here countless guides to the best MAC products, from blush to eye pencils, so feel free to use that search bar, starting with their stunning, stunning lipsticks.
Hopefully, you'll have found here the best MAC coral peach lipstick whether you're after a coral lipstick for Indian skin, black skin, or very fair skin!
Until next time!
Other MAC Posts
Other Beauty Posts
Other Lifestyle & Travel Posts